CRAC - Air control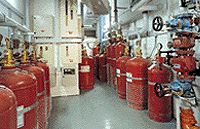 Fire Control
Fire Sprinkler
Physical description and snapshots


Computer Environment Stability

The environment in the computer rooms is Monitored and controled for:
Fire detection.
Humidity level.
ESD (static electricity) breakup and control.
Electromagnetic interferences and RF control.
Cold temperature, to ensure maximum operability and stability of computer devices.
Air particules and polution.
Air conditioning.
External I.R. visibility shielding.
Rootroute's main data centers are certified ISO9001:2000. It is a severe standard-compliance inspection issued by the International Standards Organisation. ISO9001 checks physical requirements such as those described here. In particular the Hong-Kong data center is ISO9001.